Welcome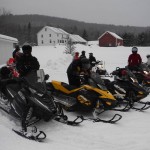 The Chittenden Dammers, a VAST Vermont Snowmobile Club, welcomes you and anxiously awaits the 2016/2017 snowmobile season.
New Signage
One of the most obvious pieces of work the crew has accomplished has been the installation of all new trail signs and posts. The club thanks Paul Vazzano and Christine Mackey for spearheading this project. A big shout out goes to long time Dammer Deanne Southworth assisted by our club president's son Marshal Dutton who constructed the awesome looking signposts. I'm sure you will all enjoy the added ease of navigation through the Chittenden trails.
Thanks for Becoming a Member
The club officers and board of directors certainly appreciate the support of long time Club members as well as folks new to the Chittenden Dammers clan. Through your continued support the Chittenden Dammers has become one of the premier snowmobile clubs in the state and our progressive riding area shows that.
Share the Trail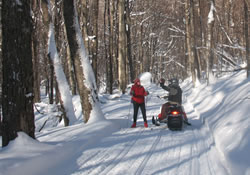 We thank you for supporting snowmobiling in the Chittenden area and encourage you to take advantage of this vast wilderness area open to all outdoor sports regardless of their mode of transportation, be it snowmobile, skis, snow shoes, dog sled or whatever, we all love Chittenden in the winter.
We encourage you to ride safely, we support the VAST policy of zero alcohol and drugs while riding. Please have respect for this beautiful wild country that we have open admission to. Ride safely and "Ride Smooth".
Join In
Meetings
We encourage all interested to attend our monthly meetings held the first Tuesday of the month September through April @ 7:00 at the Mountain Top Inn unless otherwise noted. Check for news in our blog for updated information.
Write Your Thoughts
If you have questions or suggestions please send us an email. Also our blog is open to comments at the end of every entry.
Social Media
Help promote your club by liking us on Facebook and following us on Twitter.
Photo Sharing
We also have a photo sharing site on SmugMug where you can see lots of photos taken by Chittenden Dammers as well as upload your own photos to the site.
Get involved! IT'S ALL IN THE NAME OF FUN!
---
Annual Meeting 2016 Photos
The 2016 Vast annual meeting was held Aug 20th at the Killington Grand Hotel. Rutland County was this years host.
This link takes you to our SmugMug photo album of the 2016 Annual Meeting. A smaller slide show of the photos can be seen below.