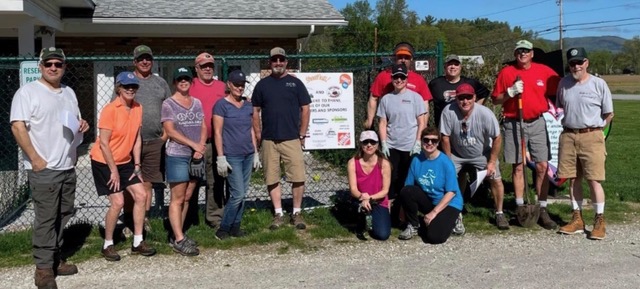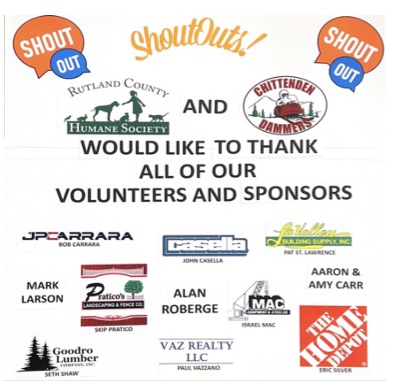 May 20, 2022
Hello All,
It is with an immeasurable amount of appreciation and gratitude that we acknowledge and thank all our volunteers and sponsors. The tremendous amount of support is overwhelming!! Everyone was so responsive and generous!
The landscape project was intended to upgrade the Rutland County Humane Society (RCHS) exterior to welcome everyone to a place to find an awesome pet and provide a home for a new member of the family. Animals are a treasure that bring copious amounts of joy to anyone that interacts with them. We wanted to honor the animals, the hardworking staff at RCHS and the families that adopt from RCHS by upgrading the landscaping and exterior grounds to welcome all who participate. We chose to use products that will last many years without further maintenance… Though this made the endeavor much more involved, we believe it will benefit everyone for years to come.
We wish to thank the RCHS staff, the volunteers, and the sponsors for making this project a total success. We savor in the fact that everyone loves and respects animals and the support for this project just reaffirms this fact.
We are totally humbled by this experience and look forward to additional volunteer projects in the future.
All the best to everyone, Respectfully,
The Chittenden Dammers Board of Directors
A SHOUT OUT TO OUR AWESOME VOLUNTEERS!!
Members
Rich McCoy
Shelley McCoy
Dave Dutton
Tim Bouchie
Mark Oldenberg
Marty Zipf
Lisa Todd
Doug Todd
Kristine Mackey
Scott Harrison
Laurie Harrison
Paul Vazzano
Special Volunteers
Melissa Slenker
Jay Slenker
Al Roberge
Andrea Larson
A SHOUT OUT TO OUR AWESOME SPONSORS!!
Bob Carrara, JP Carrara
John Casella, Casella
Pat St. Lawrence, LaValley Building Supply
Mark Larson
Skip Pratico, Pratico's Landscaping
Alan Roberge
Mac Equipment and Steel, Israel Mac
Amy and Aaron Carr
Goodro Lumber, Seth Shaw
The Home Depot, Eric Silver
Paul Vazzano
A QUOTE FROM BETH SARADARIAN, EXECUTIVE DIRECTOR, RCHS.
"Our shelter looks amazing! Thank you so much for the fresh, clean, new look we now have. We're so appreciative of all of your efforts, time and hard work. The shelter is home to many animals until they get adopted so making it extra special for them, the staff, volunteers, and the public means a lot to us. Thank you for being there for us."