Hello Dammers,
September Club Meeting is here
Mark your calendars everyone !!! We will meet 7pm-Tuesday September 5th at Mountain Top Resort!! Everyone is welcome to attend. Find out about trail work days and upcoming projects. Hope to see you there.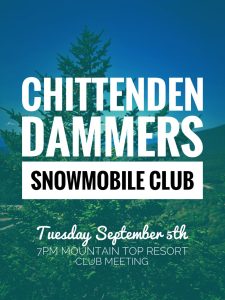 Fun Fact- Vermont has a long history with snowmobiling. Over 50 years ago, snowmobilers founded the nonprofit Vermont Association of Snow Travelers (VAST). Now one of the oldest snowmobiling organizations in the U.S., VAST has 127 clubs statewide, with over 24,000 members combined!